Rexently, the Weber grill company released the Genesis II and II LX series, updating their popular Genesis line with a brand new line of products—the most significant update to Weber's product line in the last ten years. The new lineup is objectively impressive, decisively differentiating Weber from its competition in terms of quality and versatility.
There are dozens of significant differences between the Genesis II / II LX grill models and their predecessors, but here we'll focus on the most dramatic and significant improvements.
What's new in the Weber Genesis II Series
Weber puts countless hours and resources into providing the most advanced, user-centric and functional updates for each new update in the Weber line of products. This is a result of their lifetime of commitment to producing gas grills that are both affordable and high-quality in all respects. Here are a few of the most significant changes in the newest line of the iconic Genesis grill series:
Two Grill Series to Choose From
Updated Modern Design
Improved Grilling System (More Efficient Burners, Igniters, etc.)
New Size Options (2, 3, 4, and 6 Burner Grills)
Weber Genesis II SE Series (Only available at Designer Appliances and a small number of other top tier Weber dealers. SE stands for "Special Edition".)
---
Meet the New Genesis Lineup
New for 2017, Weber has split the Genesis lineup into 2 different series, the Genesis II for casual grillers and the Genesis II LX for grilling perfectionists.
Genesis II
Color Options: All sizes available in black. 4-burner model available in black, smoke, copper and crimson. Looking for stainless steel? You'll need to upgrade to the Genesis II LX
Even heat distribution with re-engineered burners
Electronic ignition ensures your grill lights every time
Efficient grease management system reduces flare-ups
Porcelain enamel grates and flavorizer bars
Improved design makes it much easier to change propane tank
10 Year Limited Warranty
Genesis II LX
Color Options: All sizes available in black or stainless steel
All features of the Genesis II PLUS:
Cabinet below for added storage
Upgraded stainless steel grates and flavorizer bars
Side burner for your side dish or sauce
Additional burner power (8%-16% extra BTU's depending on the model)
High-heat boost setting on all burners for quick preheat and high temp searing
Handle lights illuminate food while cooking at night
LED control knobs
Automatic ignition when turning control knobs
Stainless Steel Finish option
---
Updated Modern Design
With the Weber Genesis II series, Weber streamlined the iconic Genesis design which some believe has been long overdue for a significant makeover. Genesis series grills now come equipped with either an open-structure design or cabinet design based on the needs of each individual griller. Grill shrouds are now slightly shorter, giving each grill a wider body profile and a more luxurious look.
We're quick to note that the open cabinet design is a radical design choice for the Weber company, who appear to be exploring the "full-monty" design as a result of users desire to have visually apparent protection for the the grease tray and other areas from accumulating waste, stray leaves or wildlife if the cabinets are left unattended.
Additionally, replacement of the LP tank is now far easier than ever before in the new Genesis II series, marking a significant improvement to convenience and ease of use over previous models.
---
Improved Grilling System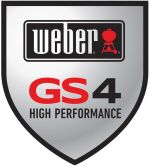 We've outlined the significant technical improvements made to the Genesis II and II LX grills under the GS4 grilling system umbrella in a previous: In-Depth Review of the Weber GS4 Grilling System
To sum up our findings in the above mentioned research, here are the most significant components of the GS4 system:
New, more powerful burners
Infinity (E2i) ignition system
Updated flavorizer bars
Grease management system
Some of these features come with marked improvements to longevity, performance and overall ease of use over previous Genesis series models.
Burners
The burners are the heart of any grill, and Weber has made major improvements to their burner designs in the Genesis II series. These new burners provide even heat throughout the cooking surface, making every inch of the grate an effective, predictable and dependable cooking surface.
Uniquely tapered burner tubes provide consistent pressure, including alignment from front to back, which provides a more consistent flame and even heat profile.
Burner holes (also known as "ports") have been made larger and more extruded. As a result, the new Genesis II burners are more resistant to corrosion and clogging issues that can sometimes plague other grill models and series.
For comparison, here is an image of a Genesis series burner vs. the new Genesis II burner:
You can likely see the difference between these two sets of images—the old burners became more easily clogged, as well as suffering from uneven temperatures from the front of the grill to the back. The most common issue was a hotter front of the grill than the back as a result of the gas pressure not reaching the back of the grill. The new Genesis II burners solve both issues with a tapered design and larger, protruded openings to address these concerns with aplomb.
Ignition system
The new E2i electronic ignition system is more durable and more reliable compared to previous incarnations. We believe that the E2i system is the most superior ignition system Weber has ever created. Below is an up-close picture taken after we dismantled one of the Weber II grills to its most basic components.
You'll notice a single push-button igniter on the Genesis II series, with an igniter on each individual knob (featuring easy-press design) on the Genesis II LX series. The LX series also boasts an ambient light and high-heat option on each unique knob, a luxurious set of features that also serves to set the LX series apart.
---
New Size Options
Weber has also lovingly revived the 2-burner edition of the Genesis II and II LX, and thank heavens for that inspired decisions—this provides grillers a choice other than opting reluctantly for the inferior Spirit series for grilling in smaller spaces or balconies. On the other side of the size spectrum, the new Genesis series features grills with four and six burners for those who like to do some serious grilling.
---
Exclusive: Weber Genesis II SE Series 4-Burner Grill
At Designer Appliances, we have been working closely with Weber for years to offer our customers the absolute best grill lineups while also providing unparalleled customer support. This year, Weber has returned the favor by releasing their Genesis II SE Series grill only available to a few of their select Weber dealers, including Designer Appliances. You won't find this model at your big box home improvement stores.
Weber Genesis II SE 4-Burner Grill
For only $50 more than the standard Genesis II 4-burner grill, the SE (Special Edition) Weber Grill includes:
Upgraded grill grates, from standard porcelain enamel to stainless steel
Upgraded flavorizer bars, from porcelain enamel to stainless steel
Rich Color Options
Where to Purchase & Summary of Pricing
Weber has been historically consistent with its pricing. In turn, it asks the authorized dealer community to keep pricing uniform across the US. This policy allows customers to get fair pricing through the years unlike the airlines where each seat on any given day can cost vastly different. Here is how Weber introduced its MSRP pricing:
Weber Genesis II Grills
Weber Genesis II LX Grills
Manufacturers' Warranty
Weber is known to have the best warranty in the industry for its grilling products. Genesis II and II LX series are not an exception to this. Weber provides and amazing 10 year warranty for the heart of their grills (i.e. Burners, Ignition, Lid and the Cookbox). Furthermore, the porcelain enamel grates and flavorizer bars of the II series are warrantied for 5 years. On stainless steel versions of grates and flavorizer bars on II SE and II LX series you will get the 10 year warranty.
Conclusion
We are very excited to begin the 2019 grilling season and finally get these incredible grills into the hands of our customers. For more information or to purchase a Weber Genesis grill (now with free shipping anywhere in the U.S.), visit us at Designer Appliances.
Join the Conversation
See what other Designer Appliances readers are saying.